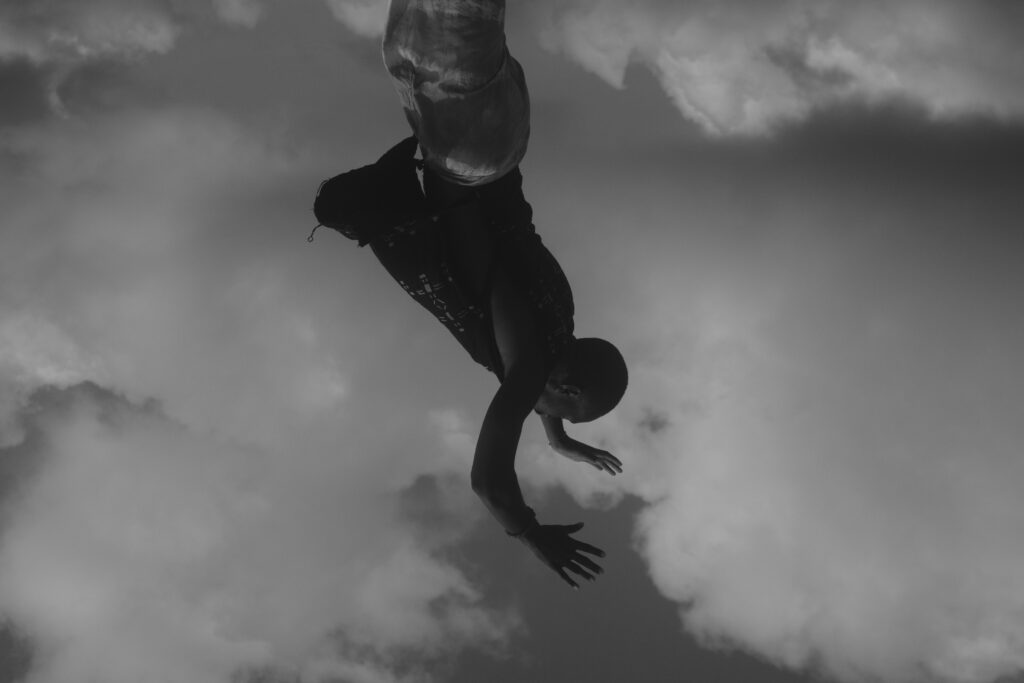 Biography
Born in London, Tobi Onabolu is an artist and writer who lives nomadically with a base in Grand Popo, Benin Republic. He works in an interdisciplinary and collaborative style across cinema, poetry, and performance.
Interrogating the process of inner child reconnection, Tobi uses his body and lived experience as a conceptual point of departure, centering an interrogation on intuition. His practice is concerned with expanding consciousness through space and across time, as an avenue through which to explore the embodied behavioural changes that necessitate and are necessitated by personal and collective healing.
Playing with breathwork, movement, and dance, his work is a meditation on the ethereal, considering humans beyond their physical form, as energetic and spiritual beings. His practice of existing beyond borders, employs pan-African, Afrofuturistic and decolonial philosophies, ultimately probing a more intimate connection with our physical, collective, planetary and astral bodies.
He holds an MA in African Studies from SOAS, with a thesis on his great uncle, Chief Aina Onabolu, the founding father of Nigerian modernism. He is a Film London Artist Moving Image Network (FLAMIN) Fellow (2022-23); a G.A.S. Foundation Fellow (2023); he sits on the Artistic Advisory Board for Culturescapes Biennale, Basel (2022 – 23); and was a guest curator at ART X Lagos (2022), with a theme titled, "Who will gather under the Baobab Tree?"
Amongst his collective exhibitions include Pave Your Path, Videotage at Art Basel Hong Kong (2023); Burning Things, RCA, London, and g39, Cardiff (2023); and Time Tells All, Borna Soglo Gallery, Cotonou (2022).
Full portfolio available upon request.
Image credits: Ifebusola Shotunde